I was just online at
Shutterfly
downloading pictures (the current price is only 15 cents per print and I can pick them up at Target.. Bonus!) and saw the ad for a new personalized photo book. It is a DORA book...cue the applause! My daughter is a HUGE Dora fan so I had to check this out. The book is called
Explore new places with Dora
! Your child will love starring in a book with Dora the Explorer as they travel together on an exciting adventure to rescue Boots! A great gift for your little explorer!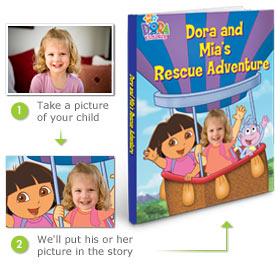 Creating this book online is so simple and takes only a few minutes. Select your favorite picture to be featured on the cover and throughout the book's 35 full-color pages. Upload the photo, enter basic information that will be automatically woven into the story, including your child's name, birthday, and hometown. You can also add an optional dedication for the book's opening page.
Enter Promo Code: AF62-JL08
to receive a
FREE 8x10
print with this order.
My 3 year old daughter received The Amazing Alphabet Adventure book for her birthday and LOVES it! We read it almost every night. She likes to look for her picture on every page. Since she is such a Dora fan I just ordered the Dora book. I know she is going to absolutly LOVE it!
To order your very own Dora, Sesame Street or Alphabet Adventure book click on the link below. Did you know that Shutterfly has Diego, Thomas the Train, Angelina Ballerina, Sponge Bob and Clifford Memory Books? They are a perfect way to remember a theme birthday party.
Shutterfly
also has a great assortment of select Nick Jr. character invitations, thank you cards and photo posters.
Leave a comment if you have any additional Shutterfly promo codes to share.